Tonight, Team Copioli went over to the practice field at Greenville HS. The intake, launcher, and tusks were all installed and wired up, so it was time to test! It took some time to get started, as evidenced in our last post. We updated live on Twitter and on Vine, so here's a collection of the highlights.
We started our testing with a large lexan & PVC catching net, but as the night went on it got cut down further and further as we realized just how much it affected our throw. At first, it went high, and fell short in distance. https://vine.co/v/hY09UIOJZb3 During some more troubleshooting with controls, we smelled smoke. We thought we'd burned out one of our BAG motors, but as it turned out we'd only heated up the lacquer on the wires. Phew! All good. Then the late-night giggles took a hold of the group – but Paul & Reid took charge and pushed through some of the issues we were having. (By the way – we think it's amazing that among all these engineers & mentors building robots, we have a high school student programming for us. You rock, Reid!)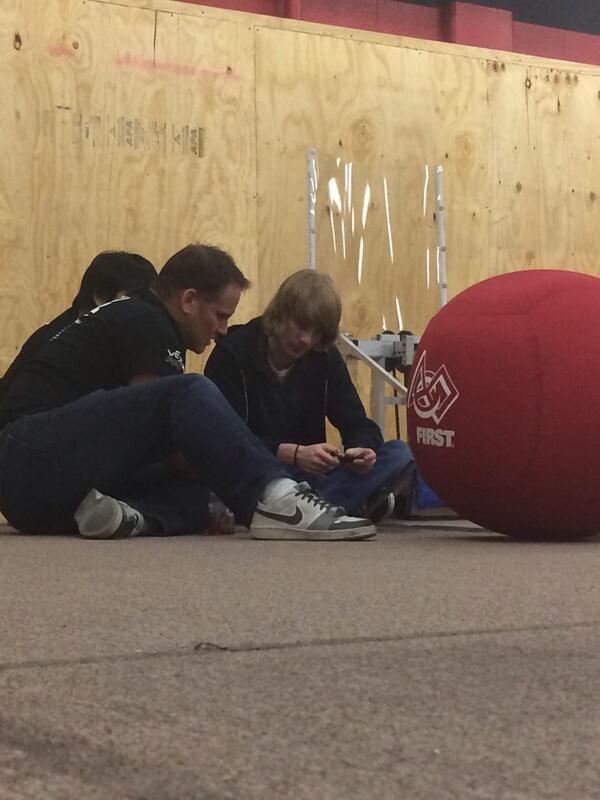 We finally hit our first high goal! It was the milestone we'd all been waiting for. The rest of the evening was focused on letting our drivers get accustomed to the robot, and figuring out how to get the results we wanted as they got a feel for the controls & the tweaks we were making in the design.
As you can see, the net was cut shorter so as not to interfere with the launch. The 'down' position for the intake was also adjusted until we found the right way to come down over the ball.
We continued making high goals standing still – and, yes – sometimes missed them (and hit Paul. Oops!) https://vine.co/v/hYEjv3eAvje
The team quickly realized that the 'sweet spot' for hitting high goals was if the robot was moving towards the goal. The flatter trajectory made things much smoother. There were definitely still improvements to be made, but we decided that since we were finally 'in week 6', we would be freezing the design (other than minor tweaks – no NEW additions). The drivers would be spending their time perfecting the running shot (for high goal and the truss) and we could work on adding in an autonomous mode to be ready for the judging showcase tomorrow. This would allow us to focus on getting consistent shots, and comfortable drivers.
As the drivers were practicing, they rammed a corner goal- and it didn't sound good.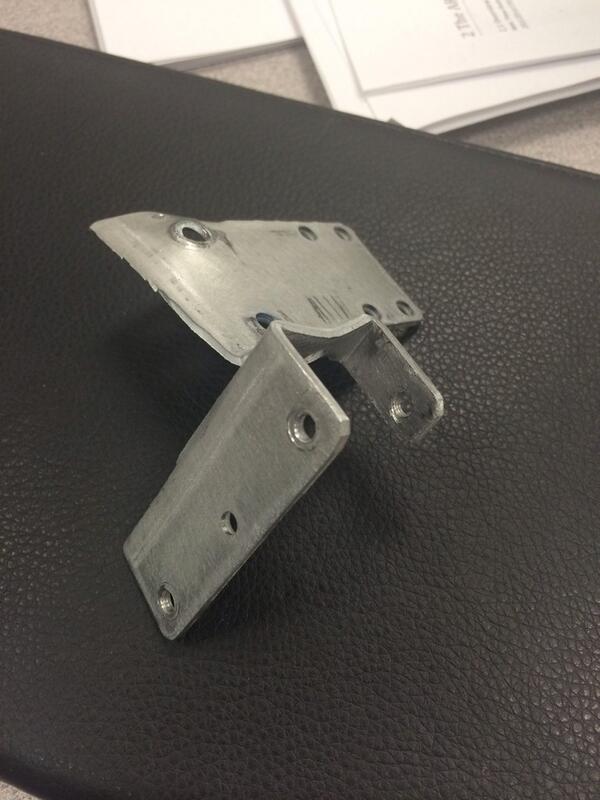 Wall: 1, Team Copioli: Zero.
Back to the shop for some fixes, and then we'll start practicing again tomorrow morning.
(By the way – if you're looking for a longer-form version of our on-field videos, well… this should sum up what we're trying to do for you.)